Day in the Life of a Hotel Receptionist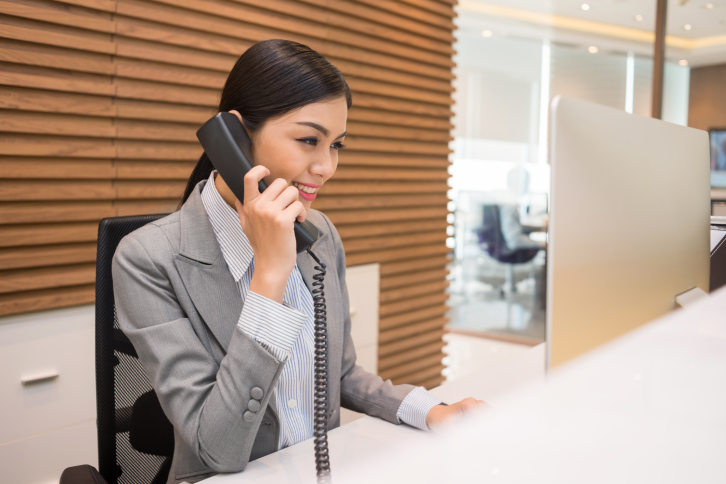 Most hospitality professionals start their careers in receptionist positions. Let's take a quick look at a "Day in the Life" of hotel receptionists and see what it's like working in their shoes.
The basic daily run-down
Most hotel receptionists will arrive 15 minutes early for their shifts to review the handover and any outstanding or important items from the previous shift. Urgent requests are immediately addressed before moving on to accounting tasks and the review of check-ins and check-outs. If there are events or business meetings taking place during any upcoming shifts, they will prepare appropriately. The rest of the day will involve activities such as assigning rooms, handling incoming packages, processing new reservations, dealing with complaints, check-ins, and check-outs as and when needed.
No surprises here: There are many responsibilities. But which of these tasks are most essential?
Let's prioritise them, shall we?
Checking guests in and out


This comes up at the top of the list simply because it is the most common activity you will engage in. The financial health of a hospitality company relies heavily on happy guests coming to visit your hotel over and over again. So your job is to ensure this process runs smoothly and that guests want to return, as they are of vital importance.

Working with reports
Your hotel gathers data for many reasons. Review reports from your previous shift and those that have come in since, and you'll be ready for whatever comes your way. Your departures report will get you set to check guests out and understand what has and hasn't been paid by these guests. The traces report holds messages for different departments, detailing what needs to be arranged or taken into consideration for your guests. Prepare for check-ins, especially those coming with special requests, in the arrivals report. Use credit reports to better understand whether your current guests are able to pay for their expenses, like that hefty room service bill.
Entering data and communication


The smooth operation of your various daily activities is reliant on communication and managing information. There are a lot of things to keep track of to ensure your first priority, customer service, is executed flawlessly. Storing and passing on information to your colleagues and other departments goes a long way when offering exceptional customer service.

Organising registration cards
Contracts between the guest and the hotel are legally binding, and it's your job to maintain them in proper form. Registration Cards must contain a complete address, while international guests' registrations require the passport information or legal identification details as well.
Responding to general inquiries


This is essential because it gives your guests a sense of comfort and security during their stay. You'll need to respond quickly, efficiently, and politely to offer the best service possible.

Liaising with housekeeping
Maintaining open lines of communication with fellow employees, especially those who help to maintain guest satisfaction, is of utmost importance. You'll work in tandem with the housekeeping staff to ensure guest comfort, including special requests like foam bedding, extra beds, early arrivals, room moves and upgrades, and so much more.
Assisting returning guests
Some guests become "regulars," returning to your hotel again and again. Many of these individuals see your establishment as a "home away from home," staying each time they travel and expecting the same excellent guest service with each and every stay. Many hold a loyalty card for your hotel or chain, earning complimentary amenities or free night stays, and are used to certain services. It's your responsibility to maintain these high standards, treating these guests to the superior level of support they've come to expect. This can take extra time and energy in preparation for their visits, but it is well worth the effort — you'll see them time and again, and they'll look forward to knowing that they're in good hands.
Dealing with large groups
Whether it's a company division booking for a conference, a wedding party blocking off an entire wing, a school group making a reservation for a convention, or a sports team staying for a competition, you've got to be prepared to assist large groups checking into multiple rooms all at the same time. Know your space and make those who must wait comfortable while quickly helping group leaders with room assignments and keys, offering hotel information, and answering any and all questions.
Managing financials


Financial responsibilities are not always the job of the hotel receptionist, but as you are part of a larger team, you will need to stay on top of the details, from calculating accurately and taking payments to managing spreadsheets and correcting and printing invoices. Organise financial documents, including invoices, discounts, payment receipts, and posting slips so they're easy to find and readily available to those working when you're not. 

Being consistently prepared and flexible


This vital component should, perhaps, go higher on the list, but it sits lower simply because it applies to every above function. In everything you do, you need to be ready to change course and find ways to turn disasters into opportunities.
Within the hospitality industry, you are the face of the company. You, as a receptionist, are critical to the functionality and success of the hotel. You are often the first in-person encounter your guests will experience, and you manage the most important details of their stay — where they sleep, how you make them feel when they arrive and depart, and how their needs are met during their visit. You can make or break a guest's experience.
Show your employer that you are up to the challenge. Visit our website for courses that will help you hone your hospitality customer service skills and increase your technical acumen and understanding of the required standard operating procedures to be a successful hotel receptionist.
Coppergate House
16 Brune Street
London
E1 7NJ
Tel: +44 (0) 20 7953 7796